Leaving Mainstream Materialism to Occupy a Culture of Congruence
My journey to The University of Ascension Science and The Physics of Rebellion began early in my life, although I did not know it at the time. My spiritual search began in earnest in my teens as I started to study comparative religions and look for the similarities in them, always looking for the threads of truth. Later I received a Ph.D. in psychology from the University of Texas, and then took a position as a psychologist at U.C. Berkeley. I spent a lot of time in metaphysical book stores and would call or meet people whose books I liked. I was invariably disappointed that they did not live up to their books. From the time I was a teenager I felt like there was something I was supposed to find, and I was always searching for it, and yet I did not really know what I was even looking for. There was something in me that would not rest until I found it.
I was part of the spiritual awakening that happened in the late 1960s and early 1970s in the San Francisco Bay area. Practicing therapy and teaching psychology, I always felt there was something missing in the areas of knowledge about psychology and even in all the great religions of the world. There were many truths in there, but many false teachings as well, and the process of psychotherapy seemed to depend more on the therapist than any particular approach. Surely someone in the world had some answers to my philosophical and metaphysical searching. Surely someone somewhere knew why we were here on this planet and where we were going and how to get there, but all I found was a lot of confusion that seemed to lead nowhere. Oh, there were interesting side trips, but no real answers. At first I would be excited by a new path, or book, or person I had found, but shortly the shortcomings and disappointments came in terms of really finding truth. As time went on I realized that though I kept looking, I was doubtful of really finding what I was looking for.
Then in 1979 I moved to Chicago and found The URANTIA Book. Within half an hour of starting to read it, I knew that this was what I had been praying for. For three years before that I had been saying a mantra to myself over and over: "God grant me greater understanding," and I realized that this was the answer to that prayer. Finally there were some answers!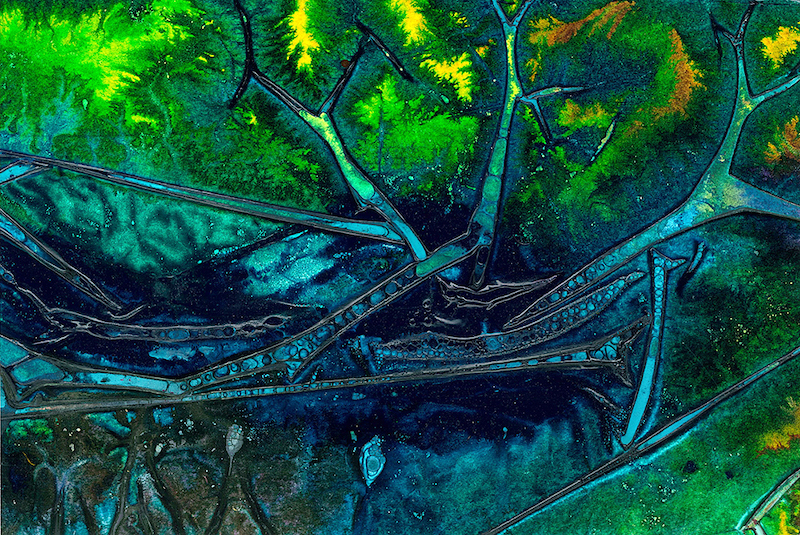 Watercolor by Marayeh is from a series depicting the emergence of personhood. Photo by Global Change Media.
For the next ten years I continued to read and study The URANTIA Book alone, finding few people who had even heard of it and even fewer who were willing to take a look at it. But I was relatively content knowing that few were ready for that very large and comprehensive book, feeling that having access to such knowledge was more than I had really expected to ever find in this world. Finding The URANTIA Book gave me intellectual and spiritual answers but did not significantly change my outer life. The sense that there was still something that I was supposed to find was still there, and I continued my search.
In 1989 my husband and I moved to La Jolla, California, and I established a private practice there. I joined a Urantia Book study group and then in 1993 began to hear stories that someone in Northern Arizona was claiming to be channeling continuing papers to The URANTIA Book. Although the people telling me were making fun of this and were convinced that this was not legitimate, I decided that if there was even an outside chance that this was true I wanted to check it out for myself. I have never been one to take someone else's opinion for something. My experience with The URANTIA Book had taught me that the majority are not ready for higher truth and often miss it. I contacted the Arizona group and ordered the books that were available at the time. As I began to read The Cosmic Family, Volume 1, so many things began to fall into place, and the sense that I had to find out more consumed me.
It was August of 1993 when I first went to a seminar hosted and facilitated by what was to become The University of Ascension Science and The Physics of Rebellion and spent a week in the intentional, spiritually-based community at that time, in Sedona, Arizona. Nothing had really prepared me for what I found there. The Human-Rights Elders in the group seemed most sincere, intelligent, knowledgeable, and humble; in fact I can honestly say I had never met a collection of individuals (and they were certainly that) quite as extraordinary as they were. Could this really be happening?
Religious desire is the hunger quest for divine reality. Religious experience is the realization of the consciousness of having found God.

The URANTIA Book,
Paper 102, Section 3, Paragraph 4
I went with an open mind and sincerity of purpose, but when I realized that this might be the culture and life I was deeply desiring, I became very frightened, not of what I saw, but of the implications for me. If this were really happening then I should be there. This is what I had prayed for my whole life and here it was, and I was terrified of the changes I would need to make and the things I would have to give up. I had quite an argument with God and felt His timing was terrible. I had just given up and decided to settle into a life of ease on this crazy world and to settle for comfort instead of chasing after destiny fulfillment. I did not really want to be starting a new life all alone at the age of 50.
Moving to join the community would mean giving up my beautiful split-level home on a canyon hill in La Jolla; convincing my handsome, funny, loving husband of ten years to move or leaving him; leaving my daughter who had just graduated from college and who was coming to live with us; leaving many friends of more than twenty years; leaving my dogs that I adored; giving up three-day weekends and expensive vacations; giving up gourmet dining and a constantly new expensive wardrobe; giving up health insurance; giving up a Cadillac and BMW for a used 4-wheel drive jeep because I was going to be living on a dirt road; giving up my beautiful office and private practice in La Jolla to move to a state where I was not even licensed and did not know how I was going to support myself.
Essentially I would be leaving behind a luxurious, very comfortable, enjoyable life filled with family and friends to move alone to an intentional community that "have all things in common" and where I would initially live in a tiny room in a modest modular house and share a bathroom with twelve other people, have no job or income, and trusting that things would unfold and work out. It would mean leaving my whole culture and comfortable lifestyle behind in order to occupy a psychospiritual culture of congruence based on Deo (Godly) cooperative living and pursuing my true destiny.
I tried very hard that week to find evidence that what I had observed and experienced in that community was not really happening, but I concluded at the end of the week that the leadership of this community were genuine and spiritually advanced and that I needed to move to join them as soon as possible. The Spirit of God (or what some spiritually-inclined people refer to as "the Hound of Heaven") did not let up, and I felt called from a place deep inside me to be there with those people in a way that I cannot even begin to explain to anyone who has not heard that call.
I spent the next eight months going back and forth every week between Sedona and La Jolla, scheduling my patients into twelve-hour days on Monday and Tuesday and then seeing patients on Wednesday morning and catching an early afternoon flight to Phoenix, then driving to Sedona, never missing a Cosmic Family, Volume 2 class on Wednesday night. I then spent Wednesday night through Sunday in Sedona where I functioned as a Morontia Counselor and Human-Rights Elder and then in December of 1993 became a Human-rights Liaison Minister.
Well, my then-husband and I sold our house with a loss; we got divorced; I closed my practice; and when the moving van arrived to load my belongings, it was a drizzly day in La Jolla. I remember standing on the landing of my split level home, looking at my sunken living room with its twenty-foot glass wall looking onto our enclosed garden with fuchsia bougainvillea covering the white stucco walls of the garden and really trying to want to stay, knowing I could still ask the movers to stop, that I had changed my mind. But as I looked into the future if I stayed, I saw nothing but emptiness and knew that I was truly being called to leave my established, very comfortable life of prosperity and live a different way, more committed to making changes that were more in line with divine administration principles. I knew that if I refused the call of the Spirit, I would regret it for the rest of my life. So I let the movers continue loading my belongings, and I left in my loaded-down jeep for a journey I have never regretted.
At the time all I knew was that I was destined to be here in this spiritual community. When I was first here I desperately missed my family and friends and the luxurious life that I had become accustomed to, and yet, although I grieved, I did not feel depressed but was exhilarated by what I was learning. I was focused on growing psychospiritually and helping to build this new reality that is a paradigm for the rest of the world. In this strange new land I felt I had come home for the first time. There was a peace that settled over my soul and a joy with life that spilled forth. That intense urge to find that thing was gone, for I had finally found what I was looking for. Peace and joy and fulfillment filled my soul.
Today I have many responsibilities. I am a Human-rights Liaison Minister and a Spiritual Morontia Counselor at the Soulistic Healing Center, an instructor at The University of Ascension Science and The Physics of Rebellion, and the Executive Director of the Soulistic Medical Institute and Soulistic Hospice, which provides home hospice services for patients in Tucson and southern Pima County as well as Santa Cruz County. I live in a beautiful home on 220-acres that is home to about one-hundred people in a spiritually-based EcoVillage. Because I work within the community of Global Community Communications Alliance as well as with people outside the community, I live in two dimensional realities, but inner peace is ever with me. The richness, depth, and meaning of my life is so satisfying that I cannot imagine ever leaving the reality and beauty that continues to unfold each day around me. I feel truly blessed.